PAST EVENTS
Mooloolaba Winter series 2001
Mooloolaba winter series concluded on Sunday 15th July and, as they do every year the committee at MYC ran a perfectly organized regatta. Unsure how they organize perfect weather for four weekends in a row but they can.
Off shore results
1st Ryan Stoddart "Stay Tuned"
2nd Sarnia Upham "Rapid Fire"
3rd Rebecca Howells "Pelagic"
River All Boats
Although most of the fleet were 1 up Sabots there were some 2ups and a Minnow & results were calculated using a the VYC yardstick system.
1st Jessica Gordon & Lucy Balcon "Material Girl"
2nd Rhys McClintock "Looking For Trouble"
3rd Josh McClintock "Wild Thing"
Handicap results were also calculated for the river all boats these results are
1st Hugh Williams "Aquamaniac"
2nd Adam Paterson "Smooth Operator"
3rd Curtis Skinner "Weekend"
A special mention goes to some of the Sabots racing their first regattas they all sailed exceptionally well. And I am sure we will see them at future events.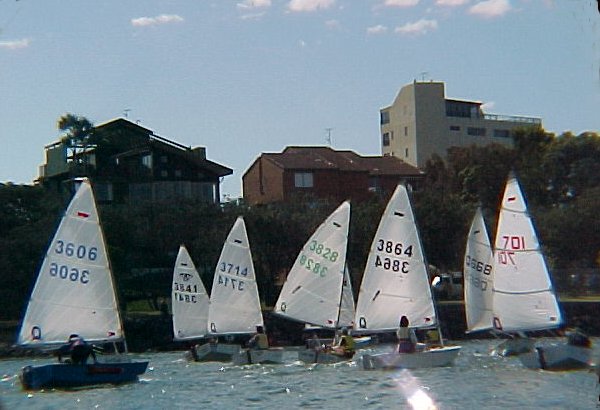 2001
QUEENSLAND

STATE CHAMPIONSHIPS

The 3rd Championships were again Hosted by Keppel Bay Sailing Club in Yepoon. When most of us arrived on Friday afternoon the sky was grey and the wind was quite fresh. Saturday morning the first day of racing was a completely different story, sun shining light winds and not a cloud in the sky. For some of us this was our first trip to Keppel Bay Sailing Club and we soon found out that the reported hospitality shown by KBSC was truly second to non.

Junior Results Mitch Cavil & Lucy Balcon in "Fire III " were victorious in 6 out of 7 races,. Renee McCall and her Crew consistently came 2nd for most races & Rhys & Josh McClintock managed to win one race to finish 3rd over all.

Senior Results

1st "Wombat " Sean O'Rourke South Qld

2nd "Smoke on Water" R Linton North Qld

3rd " Pelagic" Rebecca Howells South Qld

A close battle was fought for 3rd place with "Pelagic" &"Stay Tuned" all on equal points and the final result being decided on a count back." Wallys Weapon" & "Madness" were close behind.

click here for KBSC official results
Photo: Charlie, Rhys Ryan & Josh having a well earned break lunch time Sunday
---
Bay Titles
24th/25th March 2001
Hosted By RPYC
Redcliffe Peninsula Yacht Club hosted the South East Queensland Sabot Association Bay Titles, with some of the best young sailors in Queensland arriving at Scarborough for a weekend of intense competition.
49 Sailors in 39 sabots traveled from all over south Qld to compete .
A total of 35 RPYC and MBBC members volunteered their time to help make the event the success it was , doing a variety of jobs including Race organisation Rescue boat duties, Start boat Duties and of course Canteen/BBQ duties.
Redcliffe Coast guard was on hand throughout the event to perform duties that including carry the film crew from Creek To Coast around the course. Sponsors for the event included Century 21 Real Estate and Power Sail Marine. Complete Hire also provided the much needed shade both at the club and on the point where spectators and supporters watched the races.
Sailing conditions ranged from light 5-10 knots on Saturday strengthening to approximately 18 knots with a large swell on Sunday.
---
River Titles
Hosted by Noosa River & Rowing Club
Noosa Yacht and Rowing Club were this years hosts for the 2001 River Titles. 9 junior and 32 senior sabots participated in the 4 races over the weekend of the 10th / 11th February. Thank you to the many volunteers for their efforts. Without these people who continue to give their time, running any regatta would not be possible.

The weather remained fine with only light breezes of no more than about 10 knots for the entire weekend. Our sailors were able to demonstrate their river sailing skills having to consider strong in/outgoing tides, numerous anchored boats along the shore line and of course the light winds.

Congratulations to Phoebe Smith who won the senior division and Laura Burger and Scott Webster who were second and third respectively. In the junior division Sean and Emma O'Rourke took out the junior title for the 2nd consecutive year. Well done! Second and third were Mitchell Cavill/Lucy Balcon and Quentin Houghton/Luke Woolward respectively. A full
Handicap winners were :
Senior:
1st Rebecca Howells
2nd Lee Peers
3rd Brendan Smith
Juniors:
1st Jessie & Rosie Balcon
2nd Rhys &Joshua McClintock
3rd Charles Balcon & Ashleigh Stoddart
---
---
Mooloolaba Winter series 2000
The Winter Series at Mooloolaba saw four weekends of light breezes and sunshine. The inshore sailors gained invaluable experience from their participation throughout the series. Jessica Gordon skippered with her new crew for their first regatta. Ashleigh Stoddart / Charlie Balcon and Rosie Balcon were also very competitive.
Phoebe Smith won 1st place in the offshore division with Krystal Wright in 2nd and Ryan Stoddart 3rd place. There were only two junior boats offshore, Sean and Emma O'Rourke enjoying their sailing with Mitch Cavill and Lucy Balcon.
Many, if not all of our sabot sailors won prizes ranging from boots to tell-tales for participating in the fun events held each day after the race.
---
2000 STATE CHAMPIONSHIPS
The second Queensland Championships were held at Keppel bay Sailing Club, Yeppoon, over the Queens Birthday Weekend. Entries were down on last year mainly due to the fact that the four trips to Keppel last year left sabot families from S.E. corner a little travel weary.
Weather for the three races on Saturday was unusual with 15-20 knot southerly winds plus rain, swells, cold and poor visibility. Sunday's four races were completely different with S.W. 5-10 knot winds, big shifts, and a smooth ocean under clear blue skies.
The fleet of 22 boats was made up of 7 N.Q. boats and 15 S.Q. boats. S.Q. dominated the seniors with 7 out of the first 8 places. N.Q. had the strength in the juniors taking 1st, 3rd and 5th place.
Congratulations to Sandy Cavill in Fire 3 and Sam and Alex Kerr in Y2K , the Queensland Champions for 2000.
The North Queenslanders came mainly from Whitsunday Sailing Club and were very organised with team meetings/briefings and coaching. Renee Linton in Smoke on the Water showed great improvement since her 19th in the Nationals at Christmas to record a close 2nd place ahead of Eli Machno.
Best S.Q. boat in the juniors was Sean and Emma O'Rourke in Wombat in 2nd place.

Keppel bay Sailing Club turned on the brilliant hospitality as usual and made themselves very popular with the competitors by handing out cash prizes for scratch and handicap placings. Everyone agreed that the regatta is a must and look forward to next year.
---
Top of Page